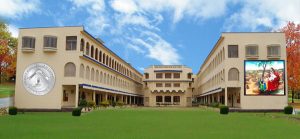 With the Grace of Lord Almighty, the Community in Kuniamuthur was blessed by an inception of Nirmala Matha Convent Matriculation Higher Secondary School in 1992 with merely 50 children with the motive of Darkness to Light.Started by Sisters of Adoration of Blessed Sacrament, the school underwent a lot of infrastructural development owing to the unequivocal sacrifice of Rev.Mothers, and Rev.Sister of SABS.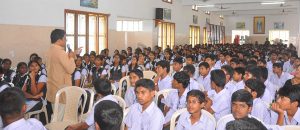 The present KG Block was the only beginning of classrooms and school office which was followed by right and left wings, Physical, Biological, Computer Sciences lab and more classrooms with many Blocks. According to change of time and to keep acquainted with latest modern technology in teaching and learning, the school keeps on updating by providing facilities such Digital class rooms and Smart classrooms with fully qualified and experienced teaching faculties.
One of the milestones is that The National Minority Commission, NewDelhi approved and granted our school Minority Status.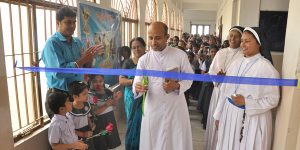 At present the school is one of the Public Examination Centres for 10th and 12th Standards.Many students got State and District Ranks in 10th and 12th standard Public Examinations.
Embedded with various clubs, four houses, Extra and Co-curricular activities such as NCC, Karate, Yoga Exnora and Sports, the students are trained and identified of their skills given opportunity to exhibit their talents in different activities round the year.
Various Endowment Awards are given to students who achieve academically.
In short, the school joining withthe Parade of one of the best schools with strength of more than 2800, its destination is to enlighten the minds of Nirmalites holistically.
The present status of students:
BOYS -1340
Girls -1472
Total -2812