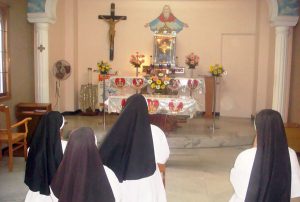 Our charism is the devotion of Blessed Sacrament. Since we are the adorer of Holy Eucharist we have to foster the Eucharistic devotion in others too. For this we use deferent means. We have several areas such as schools, Social work centers, Village development programme, Parish work etc…. All most all of our sisters are having the charges of different organizations such as CLC, KCSL, KCYM, Mathrusangam, Pithrusangam, Thirubalasakyam, Catechism etc…. Also our congregation vise we have Eucharistic Apostolate, Eucharistic associates, Eucharistic retreat etc…. The perpetual Adoration Convent, Amaithi Illam in Poomarket is a centre to radiate the Eucharistic love. Thus we have deferent areas through which we can radiate the love of Eucharistic Lord. Through our ardent adoration of the Blessed Sacrament we are able to share our charism to others.
Now a days it is a necessary to deepen the faith of the public because the faith is now a questioning one and also a critical one. So we have the responsibility to help the people to grow in their faith and lead a Sacramental life. In order to attract the youth to the miraculous power of Holy Eucharist we conduct Eucharistic retreat and different classes through Eucharistic Associates, KCSL, KCYM etc… This help them to grow in the love of Holy Eucharist. The Women group can be enlightened by adoration giving seminars and retreat. Through house visit 'Kerigma' is a means to dive into the word of God as well as make them familiar with the Word 'Jesus'.
The first and most important aim should be to call up on the world to the Holy Eucharist.